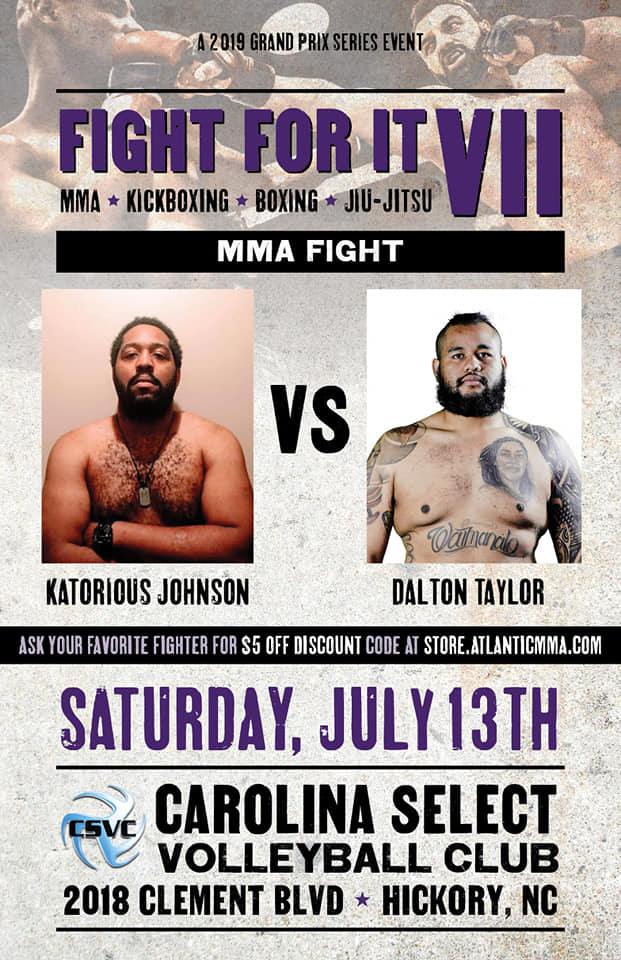 Katorious Johnson makes his MMA debut after a decade of training across various martial arts disciplines. With a broad set of skills, Johnson anticipates he'll be able to adjust his game plan as needed, "depending on the feel of the fight." Fighting out of Sparr Squad in Clarkston, GA, Johnson has directed his own training over years of sparring. July 13th he'll put those skills to the test for the first time in front of an audience.
Discount Code: Dalton
$5 Off at Checkout
Already in the Grand Prix mix, Dalton Taylor will Try to Move Up the Heavyweight Leaderboard against Johnson at Fight for It VII

Dalton Taylor will pose a strong challenge for Johnson's on-the-fly adjustments. Taylor earned 3 points towards the 2019 Fight For It Grand Prix when he scored a decision win over Marquell Fulwood-Jones back in March. Training out of the stalwart Forged Fitness, under Billy Dowey, Ted Leiner and John Allen, Taylor brings a lot of agility and athleticism to the heavyweight division. With a creative approach to striking and strong conditioning, expect to see a lot of sharp action on the feet.